This blog post was written by the Rev. Helena Martin, St. Paul's, Southington. Originally posted June 16, 2021.
My eyes scanned the faces of the forty or so people gathered, all looking up at the flag pole. With the help of Boy Scout Troop 45, St. Paul's Episcopal Church in Southington had just raised its first LGBTQIA+ Pride flag.
It flapped freely in the wind, right under our American flag on our front lawn. A few tears pricked my eyes at the sight. I'd been looking at this same flag draped over my couch all week, but flying in the wind was different. It was even better than I'd hoped.
For generations, the church has rejected people based on gender identity or sexuality. In fact, fear and rejection continue to pour out of certain churches today. Still, there are many Christians who believe God made us—all of us—in God's image (Genesis 1:27) and knit us together in the womb (Psalm 139:13). For this latter group, we have to be just as loud about God's abundant love as others are about their hatred.
The Pride events we participated in as a parish were overwhelmingly fun. After the flag raising, we attended the Pride Family Fun Day at YMCA Camp Sloper, which bustled with activity despite the rain and 50-degree temperatures. I and my colleague, Pastor Laura Kistharddt, had the pleasure of introducing Ms. Robin Fierce for Drag Queen Story Hour. And, as a recently ordained priest, I had the joy of presiding at the table during our first ever Pride Sunday Worship.
Our church office has been getting phone calls complaining about the flag hung outside our building—usually anonymous, with varying levels of kindness or nastiness. Whatever grief we've received, the Southington Pride organization has been far more beleaguered. And yet, the outpouring of love and support from all quarters of the Southington community has been unambiguous: our town loves its LGBTQIA+ residents, especially the children.
It's like Mary prophesies at the beginning of the Gospel of Luke, when she finds out she's pregnant with Jesus:
[God] has shown strength with his arm;
he has scattered the proud in the thoughts of their hearts.
He has brought down the powerful from their thrones,
and lifted up the lowly;
he has filled the hungry with good things,
and sent the rich away empty. (Luke 1:51–53)
Mary is telling us where to cast our gaze to find God, and it's not to the places of wealth and power. God has a special kind of love for the people whom society casts out. In our society, unfortunately, that still includes LGBTQIA+ people.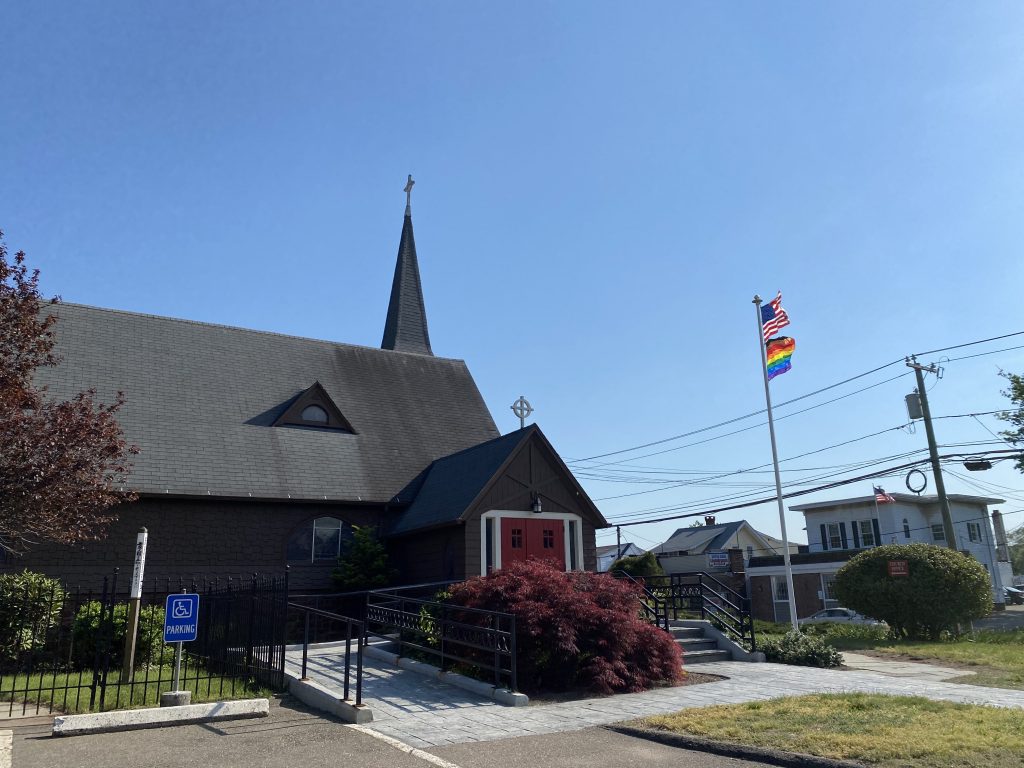 Putting up the Pride flag was not a way for our parish to check a box or prove anything. Rather, it was a way for us to express who we already are—and to make it clear our welcome really does apply to everyone. Perhaps most importantly, the flag is an indication of our ongoing commitment to ensuring we really are embodying God's love to every single person who walks in our door.
I didn't know how many people to expect on that first Friday afternoon. But there, spread across our small lawn, were people of all sexualities and gender identities from St. Paul's and around town; tearing up, grinning, and praying together. And Jesus' presence with us was unmistakable.
Other archived ECCT Stories can be found here.