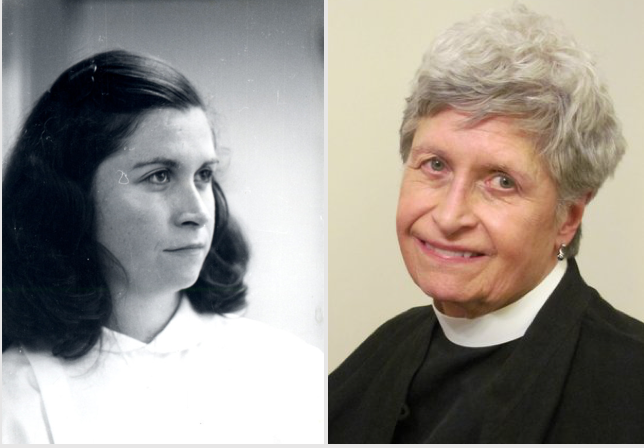 The Rev. Eleanor Lee McGee Street was a trailblazer in the Episcopal Church. Her unauthorized ordination to the priesthood as part of the "Washington Four" in 1975 helped open the doors to female clergy across the Episcopal Church. Eleanor Lee died at her home in Hamden, CT on February 21, 2022 after a long illness at the age of 78. You can read her full obituary here.
In memory of Lee and her incredible contributions to the church, we asked female clergy in ECCT to share their memories of her…
---
The Rev. Rosalie Richards
Lee McGee Street is, was, a monument to what can be in our world and in our church. She was driven by idealism, and this manifested in her marriage to Kyle, in her wild assumption that women are priests—not a wild assumption now of course, because Lee and the Washington Four and before them the Philadelphia 11 stormed the gates and entered.
What makes Lee great, though, is not that she achieved what many were convinced would not, could not, should not be. What makes Lee great is that she spent the rest of her life and ministry giving a hand up to her sisters. Lee saw possibilities for others that were life-saving.
I am one of those products. When I began a new ministry in a Latino community, Lee told me to negotiate for Spanish tutoring. It never would have occurred to me, and it made the ministry possible. When I ran a homeless agency that suddenly lost its state contract—we, the agency, became homeless. I saw the end of possibilities and she saw an easy, generous, solution. She gave us an office in the church that she and Kyle served. This kept us alive until we regained contracts and grants.
Lee had that sense about life—that life can offer possibilities of wonder. She often would arrive with delectable treats, and her voice carried that sense of delight when she arrived. Her second marriage, to Parke Street, was made in joy. She trusted that joy is what life wants to offer.
Lee and I adopted the same God-mother, Catherine Mikeshock. That means Lee and I are God sisters. I send all of my love and prayers for my wonderful sister on this new journey.
---
The Rev. Ellen Tillotson
Lee McGee Street has been, for me, a pioneer, a kind older sister, a mentor and colleague, a helpful scholar and, in the end, a friend and guide.
When I was in high school, a churchy young person trying to make my way in the world, Lee, along with the Philadelphia Eleven and the other three of the Washington Four, pushed open a door I had scarcely known was barred to me and strode through it. Many of them appeared to testify at the General Convention of Minneapolis in 1976. I was there and saw women wearing clerical collars. The door had swung wide open!
Flash forward some years to my early years in New Haven as a fresh-minted priest. Women clergy had been meeting together to support and challenge one another and they welcomed this outsider into their midst. I remember Lee as being one of those sisters, though memory might have folded time a bit; she may have joined the group later and instantly stepped into joint leadership.
A few years later, I was appointed the Chairperson of Committee I, the group on the Commission on Ministry focused on discerning persons for ordained ministries. Lee's insights about the psychological examinations was invaluable, and she was invariably kind, judicious, and shrewd, in the best possible way. I came deeply to trust her judgment, her heart, her stewardship of persons and of the future of the Church.
Some time in those years, Lee published a study on the reception of various preaching styles among men and women. The conclusions of the study (among them, that congregations were much more accepting of emotional, 'affective' sermons from men than they were 'strong, prophetic' sermons from women) helped many of us to understand how our preaching was received, and so to thread our way to a broader range of preaching styles than we might have been brave enough to attempt without that information.
As I grew in experience and living, Lee made the easy transition from mentor and guide to friend, companion, and wise soul sister. I am immeasurably grateful for her witness as well as humbled and moved to have known her personally. May she rest in the peace well-deserved and rise in God's everlasting glory.
---
The Rev. Lyn G. Brakeman
I first met Lee when she came to Connecticut to serve as chaplain of Trinity College in Hartford. Her then-husband Kyle, served on the bishop's staff. I remember talking with Lee about issues surrounding women's ordination as priests, and she told me she had at first been against pushing the Church, then joining with three other women deacons to be ordained priests in D.C. in 1975 before the General Convention voted in 1976 to ordain women as priests.
Lee's story is a courageous one. She was legally blind since she was in her twenties, and yet managed to get about using guide dogs. Lee had a full active career in ministry in parishes, as a professor of pastoral care at Yale Divinity School, as the author of a book, and pastoral mentor and guide to many students, and to me when I aspired to be an ordained priest and was turned down, in part because I was, well, a mother. I could not be a mother and a priest. It took me two more tries, lots of therapy, maturation, realizing that the Church is political (bishops retire), and Lee McGee's encouraging wisdom to finally be ordained deacon in 1987 and priest in 1988.
Two years before Lee's death I had moved back to Connecticut from Massachusetts and was almost daily on the phone with Lee as she was in her dying process. Characteristically, she always told me she was "fine" and turned the focus of our conversation onto me. I knew better but followed her lead.
Dearest Lee, I know you are at peace now in the Beloved's embrace. I suspect you can see everything clearly, and that you provide regular supervision to all the angelic messengers in Christ's name. Thank you, dear friend. I love you.
---
The Rev. Sandy Belcher
I was privileged to be a student of Lee McGee in 1983 for her preaching class at YDS. At that time, I experienced Lee as a wise and gentle teacher — one who taught by encouragement and affirmation. I will be forever grateful for the tools and confidence she gave me at that time.
However, it was more than twenty years later that I had the honor of getting to know Lee in a more personal way. Over the course of a decade or more, I had the privilege of serving as Lee's chaplain whenever she was admitted to the hospital where I was serving.
The Reverend Lee McGee was the epitome of Hemingway's phrase, "Courage is grace under pressure." Lee faced so many physical challenges, but they never compromised her beautiful and strong spirit. She met all of those and other challenges with a remarkable strength grounded in her deep faith.
She was a pioneer for all of us women clergy in her courageous ordination to the priesthood in 1975 as one of the "Washington Four". I am one of a legion of ordained women honored to follow in the path that she helped to forge.
So thank you, dear Lee, for teaching me so long ago the art of preaching — and for teaching me in later years the art of living with courage and with grace.
May the Lord bless and keep you always, my esteemed teacher and my cherished friend.
---
The Rev. Marlene (Mike) Haines
I met Lee many many years ago (1980s) when she and Kyle first came to the Diocese of Connecticut. We ended up socializing in the same group of Hartford Deanery Clergy and Spouses (McGee, Somerville, Payton, Wand, Haines). I knew she was a priest but that didn't seem to be important at the time. Our most pressing mutual reality was raising young children (and of course juggling the jobs we had along with everything else.) We supported one another as working moms do, sharing the joys, fears, exhaustion of raising kids. Somehow (maybe the Holy Spirit) we ended up having a monthly "dinner out" just ourselves without spouses or children. At the time it seemed like such a radical idea. It was there our friendship grew and deepened enough to carry us through the ups and downs of the next 40 years. Such friendships are a gift and require care and intentionality. I am grateful we could share this gift for so very many years. Rest In Peace Lee. Rise in glory.