Offered by the Rev. Helena Martin, priest-in-charge, St. Paul's, Southington.
I didn't want anyone to dismiss me as being performative. Posting publicly on social media is always a bit of a gamble, after all. It felt like a risk to post a photo of me wearing my collar and holding a handmade cardboard sign at a rally in New Haven.
The sign says, "Abortion is healthcare."
Would people roll their eyes at me making my activism known like this? Would they be offended at a priest being vocally pro-choice? And would I alienate my parishioners who disagree with me?
I held my breath and posted the photo on Twitter and Facebook anyway.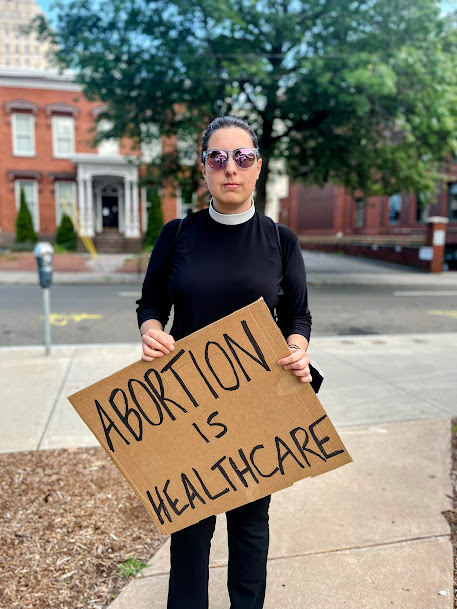 Abortion and the Church
It felt like a big deal, but in reality, I wasn't risking much. The Episcopal Church rejects the government obstructing access to abortion.
In 1988 and 1994, General Convention acknowledged that abortion has "a tragic dimension" and rejected abortion as "mere convenience." However, they also expressed "unequivocal opposition" to the government in any way interfering with a person's decision about or access to reproductive choices, including termination of pregnancy.
This means that, if nothing else, I had institutional support for the sentiment I wanted to share with my social media followers.
Pro-Choice as Clergy
I attended a second rally two days later, this time with a few friends. We were four Episcopal priests, dressed in all black on a hot summer afternoon.
On the steps of Milford City Hall, we stood in front of the hundreds of gathered protesters, standing in solidarity with an interfaith minister as she spoke to the crowd. We wanted to be visible as clergy who support reproductive justice. We can be faithful Christians, I hoped attendees would see, and still be pro-choice.
Later, as protesters dispersed, many of them stopped to talk to us. They wanted to take pictures with us and our signs. They shared their stories of growing up in restrictive Christian traditions. They kept thanking us for being there.
We didn't know what to say to their gratitude. It didn't feel like it was costing us anything to be there. Why should they thank us? They were giving up a few hours of their Sunday afternoon, as well! I told people that we were acting firmly within the bounds of our tradition; we weren't being rebels.
Still, they were grateful to see clergy expressing passion for this issue that mattered so much for them. Still, they were relieved to see that Christianity doesn't have to be synonymous with oppression. Still, they thanked us.
I realized that even though it didn't cost me much to be there, it mattered quite a lot that I was there. Not me as Helena, but me as a visible representation of God's presence with us in this struggle for equity and justice.
Visibly Christian
After I posted my "Abortion is healthcare" photo, I received an outpouring of positive feedback. Not just the usual "likes," but comments and direct messages and shares.
People from my past lives came out of the woodwork. They were pleased and more than a little surprised to see a priest being vocal about this. For most of my Facebook friends, I'm the only priest they know, of course. But for many, I'm also the only religious person they know.
The things I do visibly in the name of my faith matter.
I was ordained just two years ago, and I'm still learning the contours of my collar's power. Whether I want to or not, I represent concepts far greater than myself when I wear my collar into the world.
As a priest, I hope I can use that power to embody the joy, liberation, and purpose that comes from following our savior Jesus.